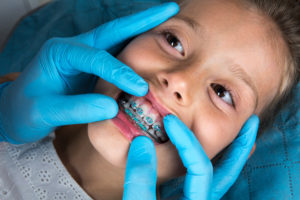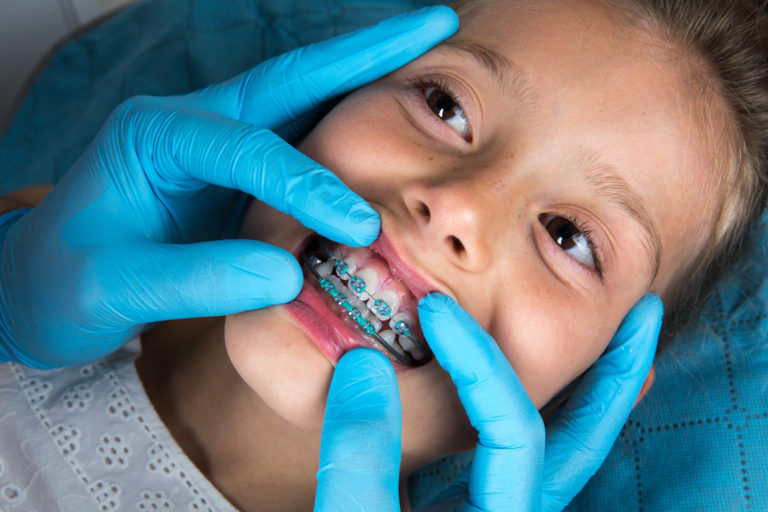 As a multidisciplinary dentistry practice, Lovett Dental Sugar Land has all of the services you need in one convenient location. This includes orthodontic care. Our orthodontic team is ready to help you straighten your teeth and improve your bite. With our help, you can have the beautiful smile you've been dreaming about. If you're in need of dental braces in TX, our orthodontic team is here for you from start to finish. This means you can get all of the oral care you need in one convenient location.
If you feel that our specialty dental services in Sugar Land, TX will benefit your oral care routine, reach out to Lovett Dental Sugar Land in Southwest Houston for a consultation. We have years of experience in providing expert dental care to our patients. Contact us today at 281-759-5900 for a friendly consultation.
What Are Dental Braces?
Dental braces use brackets attached to the teeth and a series of wires to put gentle pressure on the teeth to push them toward proper aliment. This process, done under the care of an orthodontist in Sugar Land, TX, is effective at improving the look of your smile.
There are several types of dental braces available to patients today. Some braces, such as clear aligners, are only available to teens and adults. However, most aligners are accessible to patients of any age. We offer a variety of braces to our patients at Lovett Dental Sugar Land, including:
Clear aligners
Traditional braces
Lingual braces
Ceramic braces
If you're not sure what braces would be right for your needs, we welcome you to reach out to our team today. We'd be happy to answer any questions you may have.
The Benefits of Dental Braces
There's nothing better for your confidence than a beautiful smile. If you have crooked or misaligned teeth, you may find yourself hiding your smile and your confidence. Braces can put the teeth into proper alignment, giving you back your confidence.
Not only that, but braces address many severe health problems. With dental braces, TX residents can solve issues like:
Crowding
Open bites
Underbites
Overbites
Jaw problems
Spacing probes
Some of these issues cause health problems, like jaw pain, which makes life difficult. With braces, you can address these and other issues with the help of a skilled orthodontic professional, giving you better alignment and a better overall bite. If you experience dental health problems, discuss them with your general dentist in Sugar Land, TX.
Need Braces? Here's What to Expect
Do you need braces? Many people in our community trust Lovett Dental Sugar Land for their orthodontic care in Sugar Land, TX. Our braces process is reasonably straightforward, and this is what you can expect from the process:
A no-obligation initial consultation to discuss your options
A relaxed appointment to put on your braces
Regular, convenient appointments every four to eight weeks to adjust your braces as your teeth move
Routine checkups from our dental professionals once every six months to keep the teeth clean
Regular observations to ensure the teeth are properly moving
Follow up with retainers, if needed, after braces
Because our practice is a full-service practice, there is always an orthodontist in Sugar Land, TX on hand to help with your oral care. We offer dental braces in TX for adults and children, so we can help your whole family enjoy the benefits of straight teeth.
Schedule Your Free Consultation at Lovett Dental Sugar Land Today
If you're interested in dental braces in TX, our orthodontic team wants to walk you through the process at a free consultation. Remember, you're never too old to straighten your teeth. At this consultation, we will perform a complete oral exam, including x-rays. This helps us determine whether or not braces are the right treatment option for you. If they are, we will create a custom treatment plan and walk you through your options. We will also provide you with payment plans and other financial information. The affordability of braces may surprise you.
At Lovett Dental Sugar Land, our orthodontists in Sugar Land, TX want to give you a perfect smile. We take the time to get to know you and your goals. Then, we thoroughly evaluate your teeth and alignment to make a custom treatment plan. Finally, we help both adults and children achieve straighter teeth and more beautiful smiles every day. In an effort to provide healthy smiles, we offer a range of treatment options, including:
Dental cleanings
Dental exams
Pediatric dentistry
Fluoride treatments
Fillings and sealants
We're ready to answer your questions about dental braces in TX. Contact Lovett Dental Sugar Land today at 281-759-5900, or contact us online, to schedule your free orthodontic consultation. We proudly serve the Southwest Houston area with our orthodontic services.