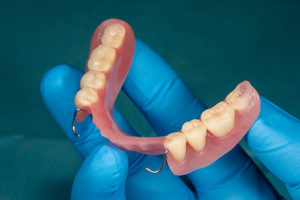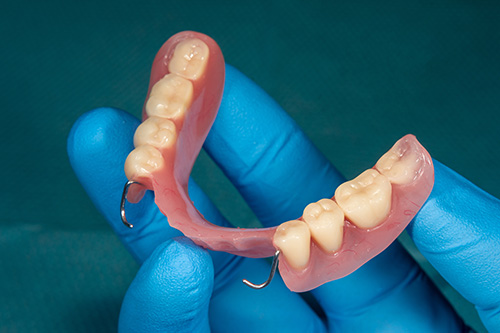 Whether you've lost your teeth to injury, gum disease, or a medical condition, dentures are a great way to restore your smile and function.
Dentures from Lovett Dental Sugar Land improve eating and the clarity of your speech. But they also fill out the cheek muscles, which tend to sag when teeth aren't present. Today, removable dental appliances look more like your real teeth when they looked their best.
Types of Dentures
Dentures aren't a one-size-fits-all solution. Your doctor measures your mouth during general dentistry services so the appliance can be custom-built for comfort.
Full
A full or conventional set is intended to replace all of your teeth. If we've just removed your teeth, we'll need to let the mouth heal before creating one. That can take two to three months.
Partial
A partial or overdenture is designed to fit securely around your remaining teeth. Those teeth act as an anchor on either side, holding it in place.
If we must pull teeth, your doctor will try to preserve as many of your natural teeth as possible. That's because the teeth help the jaw maintain its structure. Without any teeth, the jawbone begins to shrink without intervention. So, if you still have some of your teeth, and they're strong enough to anchor others, one or more overdentures may be the perfect solution for you.
Immediate or Temporary
If, for example, you've just lost your teeth because of radiation treatment, you may not feel comfortable waiting two to three months before you have your custom dentures.
While we can't get a proper fitting while you're still healing, we can offer a temporary solution that gives you the appearance of having your teeth back the same day.
Once the soft tissues in your mouth have healed, you'll come in for a fitting to get a much more comfortable set.
What to Expect with Your First Set of Dentures
Like any foreign object, you'll need to get used to your dentures. At first, you'll be very aware of them. So you may experience discomfort.
On top of that, you'll need to slowly train your mouth muscles to eat and talk while keeping the dental device in place. The good news is that the body is very adaptable. It will teach itself with practice. You might also experience some drooling as your saliva glands increase production because they find something unusual in the mouth. But this too levels off as the body learns that the appliance is now part of you. If discomfort continues after 30 days, you should speak with us. That's because if the set isn't fitting correctly, you may develop sores and infections.
Dentures vs. Dental Implants
Dental implants make the most sense for people who are only missing a few teeth. And you must have a very healthy jaw for the implants to stay.
In comparison, dental implants mean less work and worry about something falling out. There's no adhesive. And they take up less of your mouth. So they're more like your teeth. But it's not always either/or. Sometimes a hybrid solution works best.
A snap-on overdenture involves securing each denture to two or more implanted teeth using a vacuum hold-together style housing. You snap the set on and off at home with a little practice. A hybrid fixed denture, on the other hand, involves the placement of implants on which your doctor places a permanent set that can only be removed in the office.
Learn More About Dentures at Lovett Dental Sugar Land
The team at Lovett Dental Sugar Land can help you achieve a smile you'll love and the function you're used to having. We offer a series of multidisciplinary dentistry services like:
Extractions and oral surgery
If you're losing your teeth, it's time to learn more about your options. Contact Lovett Dental Sugar Land at 281-759-5900, or contact us online to learn more.