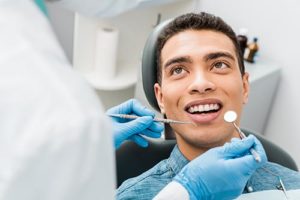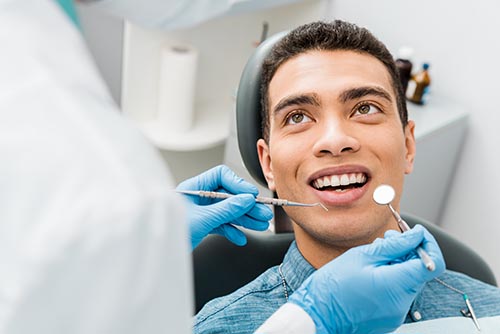 In a perfect world, your family would never need specialty dental services. Unfortunately, ours is not a perfect world. This is why Lovett Dental Sugar Land stands ready to help when someone in your family needs braces, dental surgery, or dental implants. Offering high-quality dental health care in the Sugar Land area, the experienced specialists at Lovett Dental Sugar Land make even the most serious dental emergencies seem non-invasive and easy. 
At Lovett Dental Sugar Land, we're committed to providing exceptional treatment for all of our patients' needs. Whether they need a general dental exam or orthodontic services in Houston, our team can help. For more information about our services, please contact Lovett Dental Sugar Land today at 281-759-5900.
Emergency Dental Specialists
Dental emergencies happen, and when they do, you can count on Lovett Dental Sugar Land to be there with emergency dental services. Call on us for a variety of both scheduled and unexpected dental issues, such as:
The removal of wisdom teeth

The application of dental implants

Treatment for infant tongue-tie

Exposure and bracketing of impacted teeth

Extreme tooth pain
Early diagnosis is the key to curing both common and uncommon dental health issues. This is why it's so important to see your dentist on a regular basis. Routine maintenance and care for your teeth and gums may help prevent the need for more invasive dental procedures in the future.
Calming Dental Anxiety
The highly trained and experienced dental professionals at Lovett Dental Sugar Land understand the anxiety that often accompanies a trip to the dentist. That's why we specialize in compassionate care. Lovett Dental Sugar Land's dental specialists will always put your comfort first. Once you're at ease and aware of what will happen during your dental procedure, we'll make certain that treatment is as gentle and non-invasive as possible. When you choose Lovett Dental Sugar Land to provide your family's dental specialist services in Sugar Land, TX, you'll receive the ultimate in kind, quality care.
Do I Need Specialty Dental Services?
Anytime you have a dental concern that's outside the realm of routine care, a Houston dental specialist can treat your issue quickly and painlessly in the circumstances like:
While many conditions like these may be lessened or avoided with routine dental check-ups, some may occur unexpectedly. Regardless of whether you were or were not anticipating a dental visit, Lovett Dental Sugar Land has a full team of dental professionals standing ready to provide relief. From basic dental care to an emergency root canal, Lovell Dental is your go-to choice for compassionate and efficient care. We'll get you in and out and back to your regularly scheduled life as soon as possible. Book your appointment today.
Reach Out to Lovett Dental Sugar Land Today
Lovett Dental is a comprehensive dental healthcare provider with offices all around the Houston area. Convenient locations and extended office hours that include evenings and weekends make us one of the most popular choices for dental specialist services in Sugar Land, TX.
Whether you need specialty dental care, or you're searching for the right family dental practice to provide all your family's routine dental care, Lovett Dental Sugar Land is available. Come see us for cleanings, checkups, braces, tooth extractions, X-rays, and more. We'll always get to the root of your dental concerns in a timely fashion to spare you unnecessary pain and inconvenience. We also offer a range of treatment options, including:
Accepting most forms of insurance, Lovett Dental Sugar Land offers a range of payment options to fit most situations and budgets. If you're in need of family dental care or specialty dental services in Sugar Land, TX, or nearby Houston areas, call Lovett Dental Sugar Land today at 281-759-5900, or contact us online. We have the dental healthcare experience you need to keep your family's smiles looking their best!