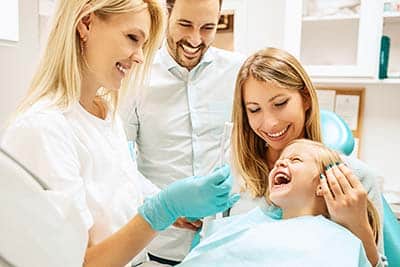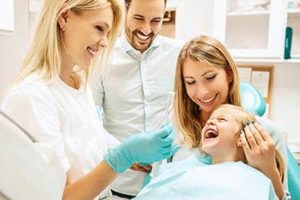 Family dentists are specialists who provide general dental healthcare for people at every stage of their lives, from infancy to adulthood. A family dentist in Sugar Land, TX, will be able to provide oral healthcare for every member of your family, making it convenient to schedule appointments and ensure that everyone in your family is getting to their dental checkups regularly.
As with general dentists, family dentists have completed a complete dental school education. Often, family dentists specialize in caring for children and the healthy development of kids' oral health. This ensures that they are able to give kids exceptional dental care, especially as children experience different dental issues than adults. Pediatric dental in Sugar Land, TX, at Lovett Dental Sugar Land, provides personal and thorough dental healthcare. We offer a relaxed and cheerful environment so that your small children feel comfortable.
What Is Family Dentistry?
Family dentists offer dental cleanings and checkups. Healthcare providers recommend that people visit their dentist every six months for a cleaning and a general checkup. This starts with the emergency of a baby's first tooth.
Lovett Dental Sugar Land's checkup services include treatments such as:
Removing tartar and plaque
Taking X-rays of the teeth
Polishing the teeth
Checking for cavities
Examining the health of the gums
A dental hygienist works alongside our family dentists to care for adults and kids during a dental cleaning. The professional hygienists at our family dental practice have experience working with children and know how to deal with kids' teeth in a gentle way. Our pediatric dentist in Sugar Land, TX, is dedicated to ensuring that your kids have a positive experience.
After the teeth are cleaned, a family dentist will check the teeth and gums for decay or any other ailments. By going to the same dentist year-after-year, they can monitor your child's oral health, treating small problems before they turn into big ones. This has the added benefit of improving your children's chances of having positive early dental experiences. As a top family dentist in Sugar Land, TX, area, Lovett Dental Sugar Land offers comprehensive dental care that ranges from basic cleanings and routine fillings to cosmetic dentistry and restorations.
I Need to Get a Cavity Filled
If our family dentists discover that you or a member of your family has a cavity, they will fill it quickly and painlessly. Filling a cavity strengthens the tooth and prevents additional decay from developing. If a tooth is badly damaged or heavily decayed, then your dentist may need to repair it with a crown, which is a cap for your tooth that mimics the look and feel of real teeth. In fact, once the cap is in place, it's unlikely that you'll hardly notice the difference. Bridges are another option for repairing excessive dental damage, but a bridge replaces several missing teeth. When you turn to a family dentist for this type of treatment, he or she will be able to keep an eye on particular teeth over time, making sure that you're caring for them properly and replacing or fixing them if needed.
Reach Out to Lovett Dental Sugar Land Today
At Lovett Dental Sugar Land, we have the staff experience and training to treat your entire family, from babies and toddlers to teens, adults, and seniors. We provide orthodontic care as well as periodontics treatments like teeth scaling and planing. We can whiten your teeth or place veneers since we also specialize in cosmetic dentistry in Sugar Land, Texas. Contact Lovett Dental Sugar Land at 832.990.8729, or contact us online for more information or to schedule an appointment today.