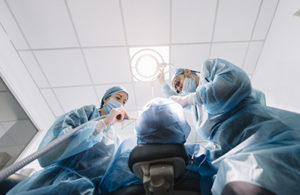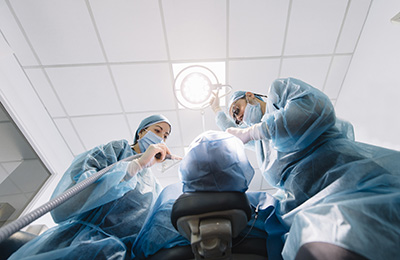 Protecting your teeth and overall oral health is critical to ensuring your long-term health and wellbeing. If you develop complications that require more advanced care, our team at Lovett Dental Sugar Land is available to help you. We offer comprehensive oral surgery in our specialty dentist's office in Houston, providing you with access to skilled and well-trained professionals who can help you with the most advanced treatment options.
Oral Surgery Procedures at Lovett Dental Sugar Land
When we care for patients, we aim to use the least invasive but most effective treatment option available. If you have a need for more advanced care, for functional or aesthetic needs, our oral surgery center is available to help you. We perform a wide range of surgical procedures in our office. Some of the most common include:
Wisdom teeth extraction
Impacted tooth extraction
Bone grafting
Oral pathology
Tongue-tie treatment
Pro-prosthetic fittings
Often, your family dentist will tell you when to consider more advanced treatment for your needs after a dental exam and x-rays. This is when you can trust our team to step in to provide you with the care you need.
Why Trust Our Oral Surgeon?
It's wise to find a dentist in Houston you trust to provide you with any oral surgery you may need. Our team at Lovett Dental Sugar Land is committed to providing you with exceptional care. This comes from a background of advanced training and experience.
After completing four years of dental school, your oral surgeon then spent years working in an in-hospital residency program, learning hands-on alongside internal medicine and general surgery professionals. After this, a surgeon then spends time learning specific skills necessary for dental surgery, including emergency medicine, ear, nose, and throat procedures, and plastic surgery.
Because of our advanced level of education and training, you can feel confident any time you need to have these more invasive and complex procedures. If you have questions about our experience, be sure to ask during any dentistry service.
Minimizing Risks During Surgery
Another reason to trust our team with your oral surgery needs is that we take every step possible to reduce your risks. This starts by providing you with a comprehensive education on what to expect during your treatment and after. We will give you specific guidance on aftercare to ensure you are not faced with complications.
During your procedure, we'll use the right type and amount of sedation and anesthesia to control any discomfort you have. For many of our patients, this includes IV therapy or sedation dentistry. In some situations, you may benefit from more advanced care through general anesthesia. If necessary, we will use this type of treatment in a very safe manner and controlled situation.
If any type of emergency arises during your oral surgery, we have the resources and skills to manage it. You can trust our team to do everything possible to protect your health.
Learn More About Oral Surgery Options at Lovett Dental Sugar Land
Protect your smile and oral health. If you need oral surgery, speak to our experienced surgeons about the best treatment plan for your needs. To learn more, request a consultation at Lovett Dental Sugar Land. Expect outstanding care and treatment from any of the following dentistry services:
Dental fillings and sealants for cavities
Dental braces for children and adults
Dental bonding and veneers
Contact us by calling 281-759-5900, or contact us online for general, cosmetic, and specialty dentistry services in Texas.