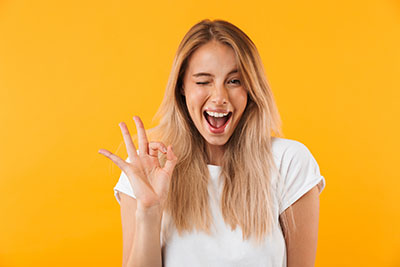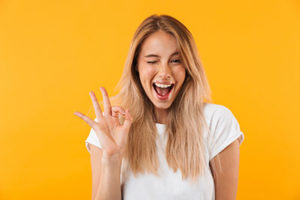 A healthy smile, according to Oral Health Foundation "can truly transform our visual appearance, the positivity of our mindset, as well as improve the health of not only our mouth but our body too." Cosmetic dentistry at Lovett Dental Sugar Land, TX is the ideal solution to restoring that healthy smile and self-confidence. Your Sugar Land, TX cosmetic dentist will help you address many dental problems caused by:
Discolored and stained teeth

. Our teeth yellow with age, and what we eat and drink will discolor our teeth.

Gapped or crooked teeth

. Orthodontics can correct the effects of malformed teeth. Braces and clear aligning trays can realign and straighten your teeth.

Chipped teeth

caused by wear and aging. We damage our teeth through accidents, chewing hard foods, or nail-biting. Your Sugar Land, TX cosmetic dentist can apply a variety of methods to repair broken or damaged teeth.

Missing teeth. Our goal is to help you keep your teeth. However, tooth loss doesn't have to cause permanent problems. Patients with missing teeth can recover their smiles and dental stability through implant dentistry.
Cosmetic Dentistry at Lovett Dental Sugar Land
Your Sugar Land, TX cosmetic dentist can help you chart a path to a dramatic improvement in your appearance and overall dental health through dental cosmetic procedures that include the following:
Teeth Whitening
Cosmetic dentistry in Sugar Land, TX uses a tooth whitening process that lasts longer and is safer than self-administered processes. Depending on whether the staining is on the surface or is deeper in the roots due to age, etc., the teeth whitening treatment in Texas can be as simple as routine visits for cleaning or professional bleaching. 
Porcelain veneers
In addition to improving the color of the teeth, porcelain veneers can correct a host of dental cosmetic flaws. The Sugar Land, TX cosmetic dentist can cover your crooked, chipped, gapped, or permanently stained teeth with strong porcelain covering that can last up to 20 years.
Braces
Traditional metal braces are effective in straightening crooked teeth. There are other options:
Ceramic braces are less visible and are preferred by older patients concerned with their looks. Clear braces are larger, require more care, and are more suited for upper teeth straightening.
Clear aligning trays are devices that fit right over the teeth. Our certified Sugar Land, TX cosmetic dentist takes an impression of your current teeth. The technology charts your path to eventual proper teeth alignment and crafts a series of devices that incrementally move your teeth to their final proper position. 
Dental Bonding
For slightly chipped, discolored, or crooked teeth, dental bonding provides a conservative and less expensive alternative. The bond is an amalgam and many patients prefer white-colored bonded filings over the darker silver. Houston, TX cosmetic dentistry bonding can be a permanent solution to restoring your smile. 
Dental Implants
Dental implants can consist of single, multiple, or total tooth replacement. Dental implants are anchored on titanium metal posts that integrate with the bone. Metal threaded posts replace the root of the tooth. The posts provide solid support for the prosthetic teeth. In most cases, the implant lasts for life. Dental implants are the ideal solution to replacing missing teeth. They are more durable than dental bridges and more comfortable than dentures.
Learn More about Cosmetic Dentistry at Lovett Dental Sugar Land
If you are ready to reclaim that dazzling smile and self-confidence through cosmetic dentistry in Sugar Land, TX, give us a call at 832.990.8729, or contact us online. Contact Lovett Dental Sugar Land for information about cosmetic dentisry in the Houston, TX area.